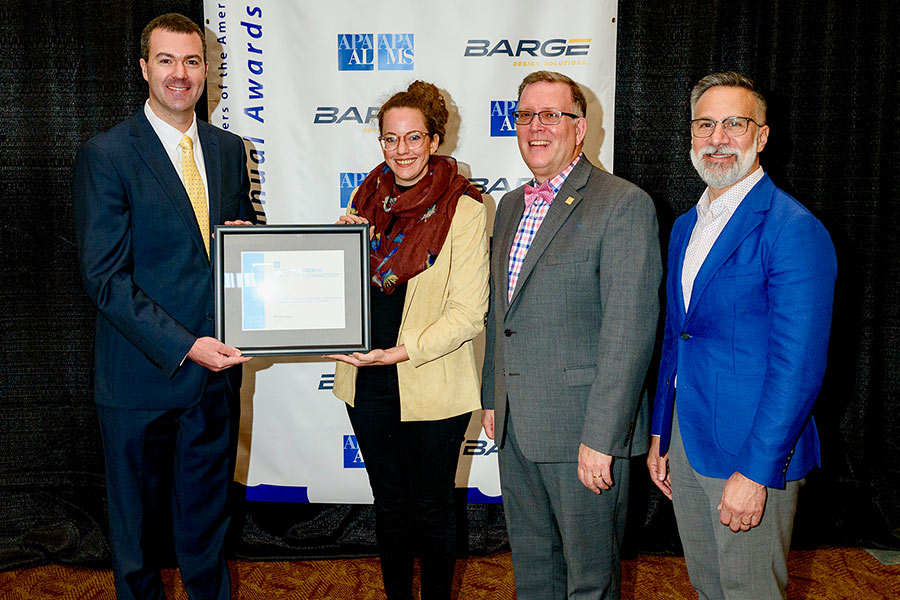 By Anna Owens | Mississippi State University
STARKVILLE, Miss.—Mississippi State's Fred Carl Jr. Small Town Center is being recognized with the Best Public Outreach Award by the Mississippi Chapter of the American Planning Association.
The accolade is a result of the Fred Carl Jr. Small Town Center's recreation master plan for the city of Byram, a formerly unincorporated community which has become a Jackson suburb. The city hired the MSU center to create an improvement proposal for pedestrian and recreational opportunities.
In a partnership with MSU's Center for Advanced Vehicular Systems, the center designed software that tracked frequently visited places, desired and existing paths for bikes and pedestrians, as well as driving routes and dangerous intersections within the city. Residents then completed surveys on iPads at a community meeting and indicated their desired walking routes, parks and other recreational opportunities. The compiled data informed community leaders about residents' preferences and introduced creativity to the planning process.
Fred Carl Jr. Small Town Center Director Leah Kemp said that although the team has received the outreach award in the past, this year's win was an especially great honor and valuable recognition for implementing a new, technological approach.
"We're glad APA recognized the project's potential impact for small communities," Kemp said. "There's no cookie-cutter formula for this type of work—we create community-specific responses and solutions depending on the situation."
The center hopes to utilize the technology implemented in the Byram plan through similar partnerships with other Mississippi communities in the future.
Founded in 1979 as the university's community design outreach program housed in the College of Architecture, Art and Design, the Fred Carl Jr. Small Town Center provides planning and design services across Mississippi. Past projects include an award-winning master plan for Greenwood's Baptist Town neighborhood and the historic Weschler School building renovation completed in Meridian in 2018. Recently celebrating its 40th anniversary, the center was endowed in 2004 by major benefactor Fred E. Carl Jr. of Greenwood, who attended MSU as an architecture major and was a 2009 selection for an honorary Doctor of Science.
For more information, visit www.carlsmalltowncenter.org and follow on Facebook, Twitter and Instagram @smalltowncenter.
MSU is Mississippi's leading university, available online at www.msstate.edu.